Monday, May 3, 2010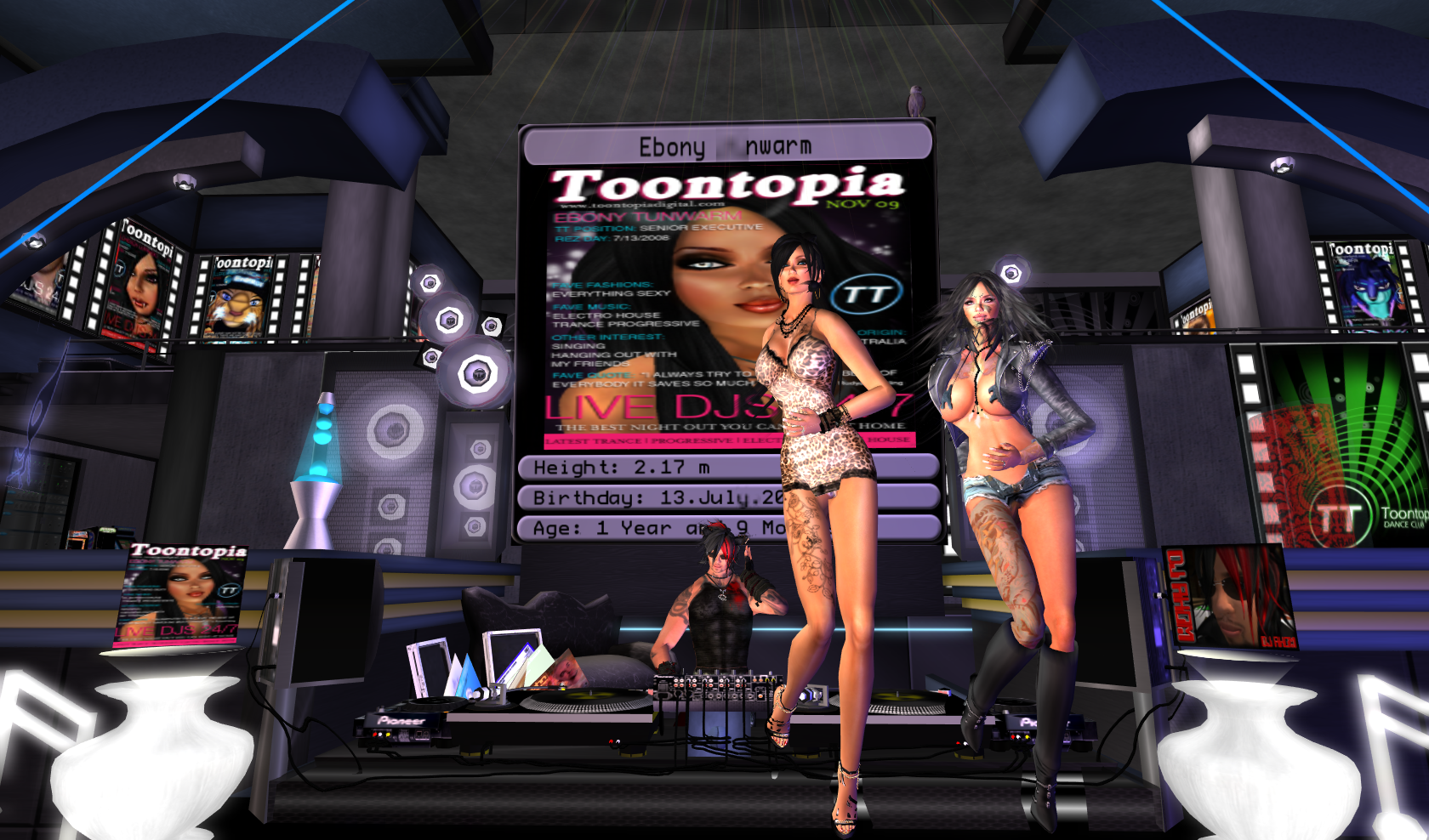 Capping off a busy DJ weekend was my normal slot in Toontopia! Tonight I went back to my roots for the first hour and just spun some raw booty shaking ghetto electro house! It was so nice to be able to just play some sick stuff. After the first hour I switched to a few tracks of commercial style electro and then I did something totally crazy....I ended the set with some deep house. Now technically doing such was a real gamble but I wanted to share some deep house with my hostess and end the night on a happy note. LOL I do not want to go to bed banging and kicking things LOL! Many thanks to my smexy hostess Ebony and sexy Indura for grooving on the DJ booth for the set! Also long time fan Kuchiki made an appearance and is always nice to see you!
Here is a track listing for the set:
1. Real High - Original Mix -- Afrojack, Bobby Burns
2. Party Rock - Original Mix -- Mikix The Cat, Momma's Boy
3. Glory Hole - Dopefish Discometric Remix -- Fafaleroi
4. Glory Hole - Dopefish Mafia Edit -- Fafaleroi
5. Don't Give Up Disco - Original Mix -- WoNK
6. Pack Jack - Yenn Remix -- Space DJz
7. The Cannock Wobble - Bill Eff Remix 2 -- Cold Blank
8. Doop - Club Mix -- Squeeze
9. The Flying Cat - Alex Mind Remix -- Cold Blank
10. Funk Furniture - Stupid Fresh Remix -- Jackinori, Eddi Zanetti
11. Big Bass - Original Mix -- DJ Bam Bam, Whiskey Pete
12. House Music - Carlo Cavalli & Danny Cailro Remix -- Simone Pisapia, DJ True
13. Naked - David Sense Remix -- Beatchuggers
14. Pretty Mess - Marshall Stack Remix -- Erika Jayne
15. Ocean Of Love -- DJ From Mars Remix -- Darren Baile pres. MLKB & Damae
16. In Da Name Of Love - Extended Mix -- Ray, Anita
17. Give To You - Original Mix -- Willie Graff, Tuccillo
18. That's The Thing - Lee Curtiss Remix -- Lewie Day
19. Something On My Mind - Vincenzo Remix -- Steve Bug, Superlova
20. That's The Thing - Original Mix -- Lewie Day
21. The Glow - Original Mix -- Lee Curtiss
22. Love Is On Its Way - Original Mix -- Lewis Ferrier
Blog Archive

About Me
Rhomoruel

Hi! I am a DJ in the Second Life virtual world. I play mostly electro and progressive house. I am from the Detroit area so I tend to have some urban flavor in my sets.
View my complete profile