Tuesday, April 6, 2010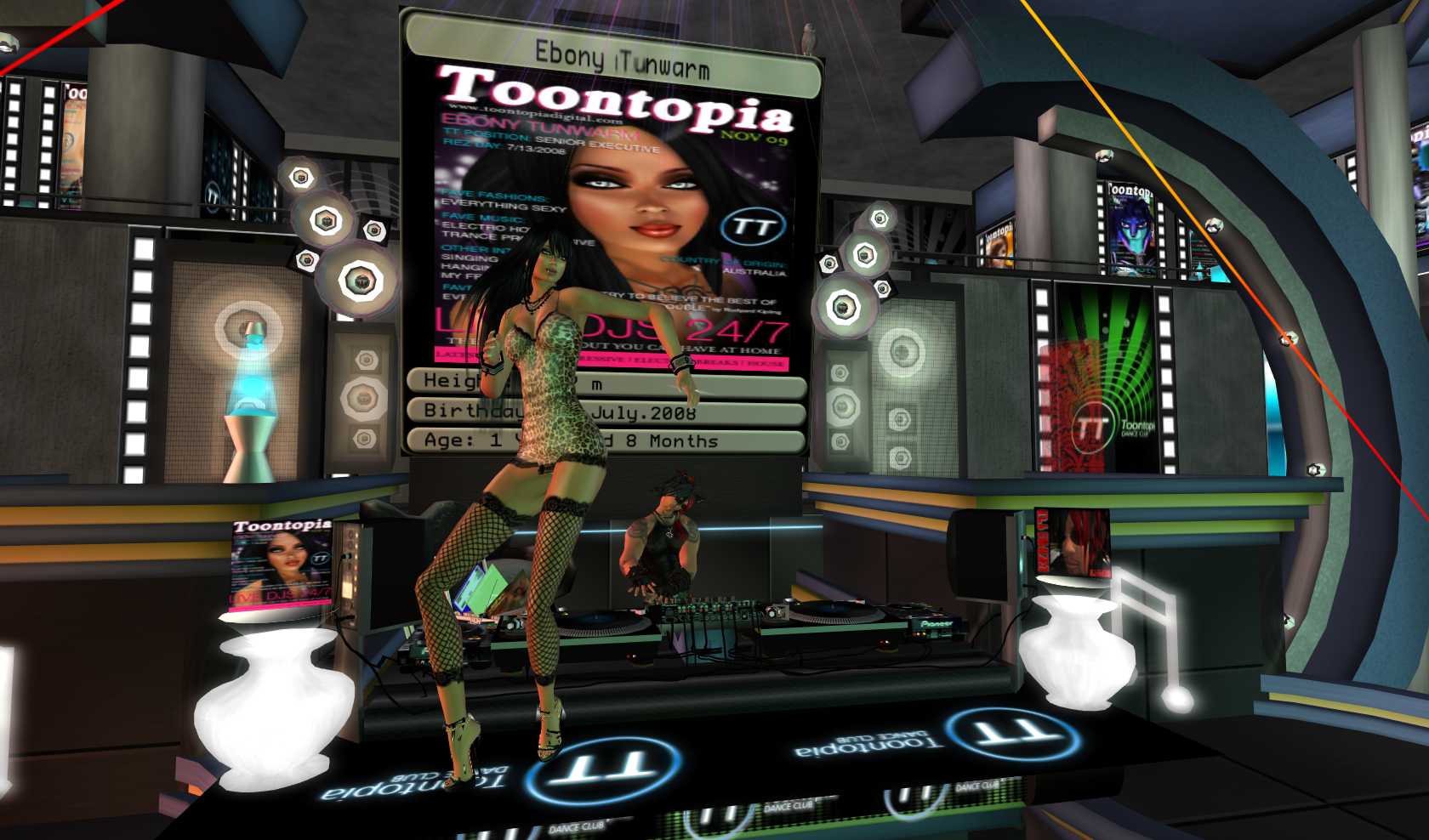 Early in the morning and I found myself back at Toontopia for my normal timeslot. This time I followed DJ Mischief, who hung in there for a 4 hour marathon set! I sure bet he was tired. He was spinning trance so I was kind of wondering if my particular style was going to be a jolt to the audience but the change of pace seemed welcome. Of course my smexy hostess Ebony was there to get the crowd pumped up as usual. I even had a long time fan Kuchiki Kittaj come on out. It was nice to see ya!
For the set I tried to go back to the particular electro house sound that I like while still throwing in some ass shaking softer electro house tunes. Ebony really kept the crowd pumping as people filtered in an out. Spinning at this later time brings about a different audience due to the timezones its nice that a different set of people can hear the tunes. It was a great time! I am still not totally used to spinning at this time but I am getting better hehe!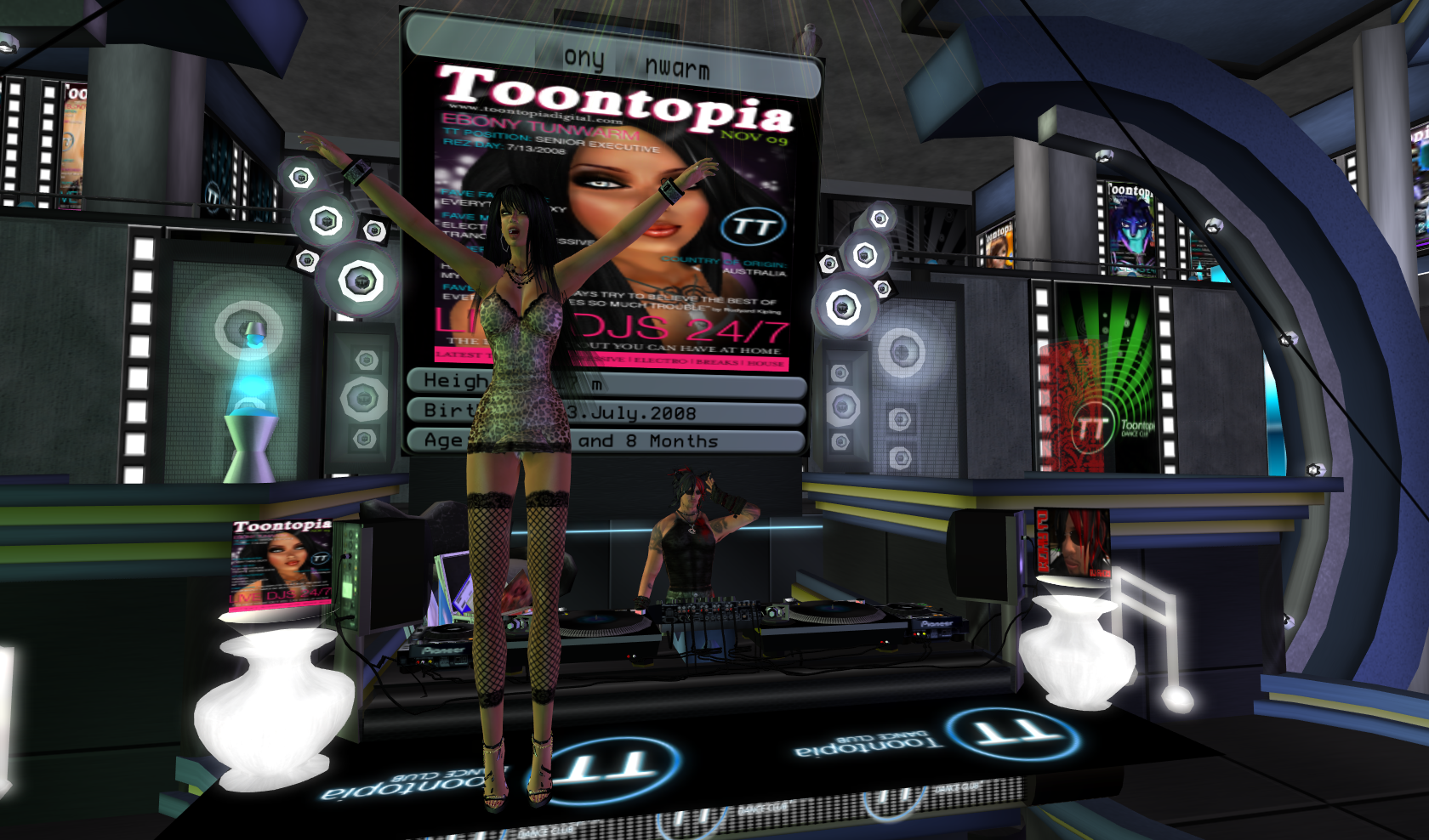 Here is the track listing for the set:
1. Dancin' Shoes - Original Mix -- Sanchez And The Shockers
2. In The Zone - Bart B More Vocal Mix -- MC Flipside
3. Brrrap! - RacknRuin Remix -- Tom Piper, Blaze Tripp
4. 2 Drunk 2010 - Ei8ht's AA Remix -- DJ Red, Stacy Osorio
5. Horny Cherry feat. Trash Boyz - Radio Mix -- O-Mind
6. Keep On Moving - Pete Sunset Club Mix -- Ron Ravolta
7. Pillpopper feat. Becci - MALO's El Guapo Remix -- Tits & Clits
8. In My Dream feat. Elvira Solovey - Original Mix -- Gerich, Mrak & Koba
9. I'm On Top feat. Adara - Club Mix -- Rudenko
10. Everybody Needs - Audius Remix -- Night Drugs, Oh Shit!
11. In My Mouth Part 1 feat. Lauren Neko - Original Mix -- Erick Decks, David Puentez
12. Lick It feat. Estela Martin - Extended Mix -- Mainstream
13. I Love Sex - Audius VCR Remix -- DJ Exodus, Kelly Trance
14. Naked - David Sense Remix -- Beatchuggers
15. New Start - Original Mix -- Aime Garnier
16. Locura - Electro Mix -- Love Link
17. Push It Again 2.1 - Montesano & Katuin Pushing It Mix -- Oliver Smith, DJ Lawless
18. Get Busy - Lee Mortimer remix -- Bassmonkeys, Bianca Lindgren
19. Slap My Nutz - Escobar & Vito Remix -- Young Nutz
20. Push Up Word Up - AC Slater Remix -- Freestylers
21. For You - Original mix -- Hirshee
22. Day Off - Original Mix -- Xinobi
23. Exceeder - Felguk Remix -- Mason
24. You & I - Deadmau5 Remix -- Medina
25. I'm Feeling You -- capsule
Blog Archive

About Me
Rhomoruel

Hi! I am a DJ in the Second Life virtual world. I play mostly electro and progressive house. I am from the Detroit area so I tend to have some urban flavor in my sets.
View my complete profile