Monday, April 19, 2010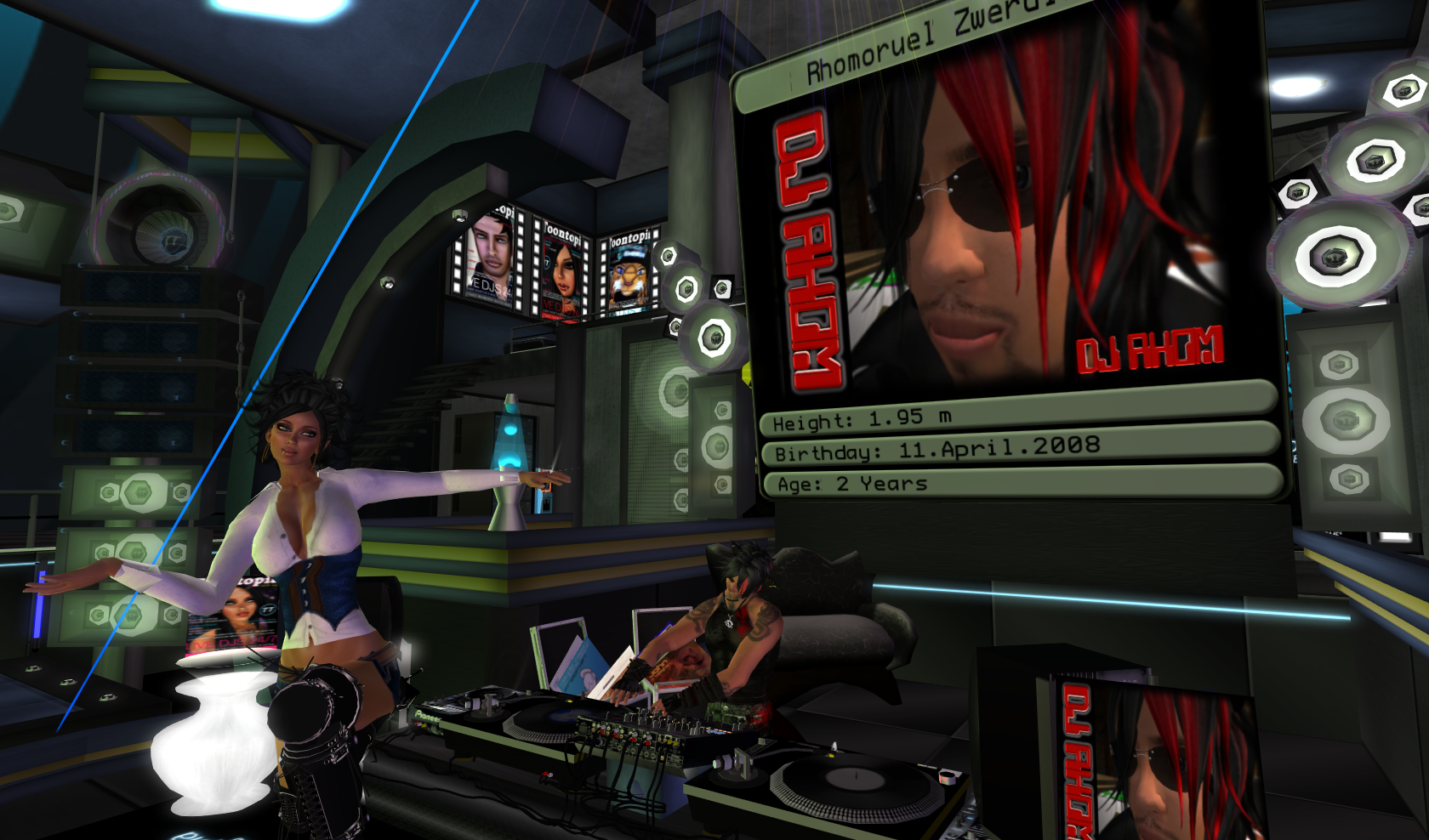 This morning found me doing my normal weekly time slot in Toontopia with my smexy hostess Ebony! I had a week off due to RL work so it allowed me to hook up my new equipment and use for the first time in a set today! My new setup consists of an M-Audio Xponent midi controller directly inputting in a Denon DN-X1500S mixer with 2 Denon DN-S3500 CDJs. The output from the mixer goes through a Behringer Composer Pro XL compressor then feeds into a PC running VDJ as a broadcaster and with two virtual decks controlled by the midi controller. This setup lets me have greater control of the sound channels and control it better with the mixer. It also makes using the mic a bit easier. It was a slow night in TT so it was the perfect time to field test the new setup!
Ebony kept the crowd pumping as always as people came and went. Part way through the set my newest Toontopia partner in crime Creamy Bayliss showed up to groove and harrass me when mixing lol. She was always saying I was quiet but she was always trying to talk when I was mixing LOL!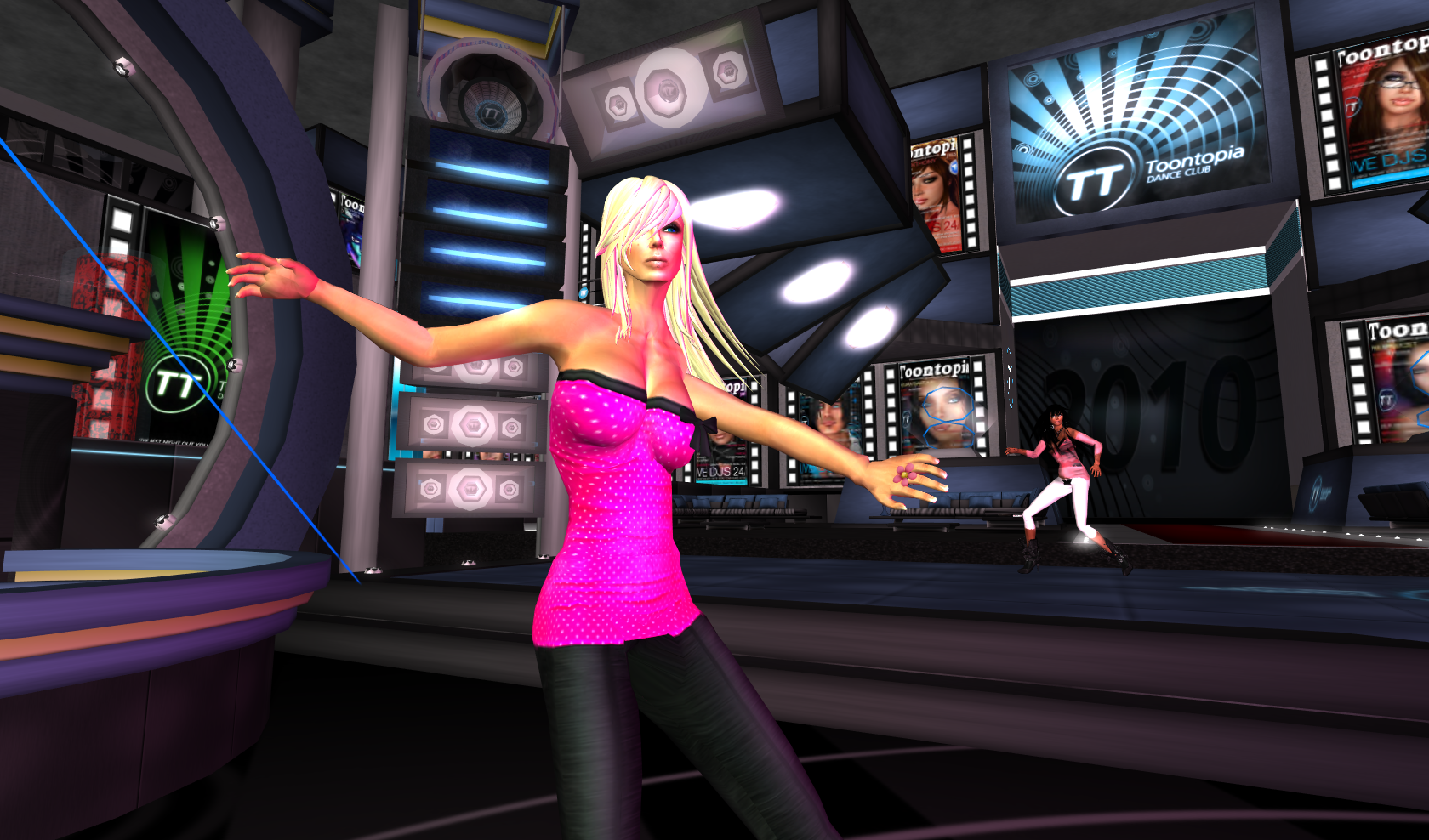 So when I had a chance I cam perved her and snapped the pic above of her grooving! Her along with Ebony made the night really fun! I always enjoying hanging with ya Creamy ya nut! The crowd seemed kind of mixed tonight with the set but I think it was just the mood. I played mostly softer electro house and ended up wrapping up the night with a few progressive tracks just to try out different dynamics with the new setup. Towards the end long time fan and friend Codie Quandry showed. She must have just woke up cause it was hella early for her. Always nice to see you at my sets!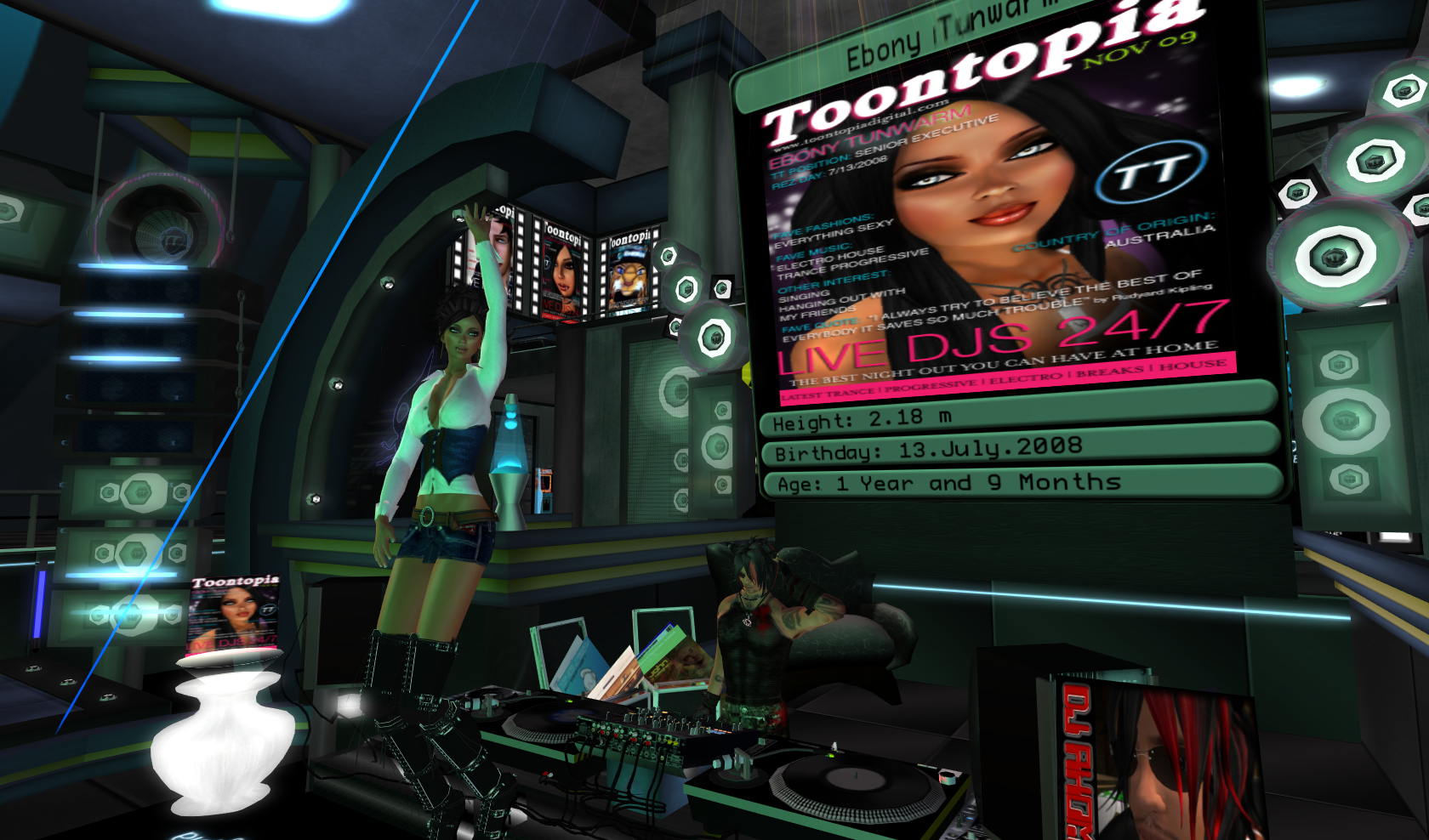 Overall was a successful test of the new setup and I look forward to taking advantage of the M-Audio controller's slew of midi channels once I re-write the midi mapping scipt within Virtual DJ for it! I look forward to the next time I am in Toontopia! Thanks guys and gals!
Here is a track listing for the set:
1. Moving On Up - Push It Mix -- Candy
2. Do It Right - Calvertron's 59 Fifty Remix -- Binkers
3. Don't Give Up Disco - Original Mix -- WoNK
4. Anzap - Jessie Diamond DJ Remix -- Zunda Project
5. Bingo feat. Elodie - Extended Original Mix -- John Dahlback, Elodie
6. Check Out Our Groove - Ghetto Bass Remix -- Voodoo Chilli
7. Brrrap! - RacknRuin Remix --Tom Piper, Blaze Tripp
8. Horny Cherry feat. Trash Boyz - Radio Mix -- O-Mind
9. Keep On Moving - Pete Sunset Club Mix -- Ron Ravolta
10. So Good - Calvertron Remix -- Starchaser, Nachang Nancy
11. Your Fire - Extended Mix -- Basto!
12. Naked - David Sense Remix -- Beatchuggers
13. New Start - Original Mix -- Aime Garnier
14. Get Busy - Lee Mortimer Remix -- Bassmonkeys, Bianca Lindgren
15. Slap My Nutz - Escobar & Vito Remix -- Young Nutz
16. Misfits - Aniki Remix - Danny Soundz, Whiskey Pete, The Roach
17. Push Up Word Up - AC Slater Remix -- Freestylers
18. For You - Original Mix -- Hirshee
19. Day Off - Original Mix -- Xinobi
20. Exceeder - Felguk Remix -- Mason
21. In My Dream feat. Elvira Solovey - Original Mix -- Gerich, Mrak & Koba
22. Angel On My Shoulder - Extended Mix -- Kaskade
23. You & I (Deadmau5 Remix) -- Medina
Blog Archive

About Me
Rhomoruel

Hi! I am a DJ in the Second Life virtual world. I play mostly electro and progressive house. I am from the Detroit area so I tend to have some urban flavor in my sets.
View my complete profile